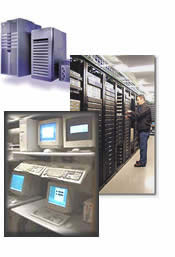 PC Perfect builds and configures servers specifically for each client and each circumstance.

Each server is designed, built and tested to accomplish the specific tasks required by each client. We ensure that the server will meet your needs now, and will be able to grow with you in the future without downtime.

We can incorporate File Services, Print Services, MS Exchange, Fax Services, Databases, Intranet, Internet, VPN and RAS, all while providing absolute security and file integrity.

We also provide several redundancy methods, including RAID systems, Hard Disk Mirroring, Optical and Magnetic off-line storage, server synchronization, and several other options. This ensures that your data will always be backed up and available.

We can also help you repair, maintain or upgrade your existing server. For more information on our servers and available options, please click here to schedule an appointment.